What's Included with this Printable? (A LOT)

These sexy coupons range from romantic to random, sweet to silly, traditional to new, and corny to comforting. They encourage intimacy, communication, pleasure, fun, and orgasms as you explore and experience each other.
Especially with sexual intimacy, it's important you are BOTH comfortable with the fun! Feel free to toss away any in which you are not interested.
We custom-created instantly downloadable, print-at-home, curated collection of 69 Sexy Coupons for lots of sweet sexual intimacy with your beloved. This product is jam-packed with everything you need for tons of fun…
Everything below is included in the 44 page packet...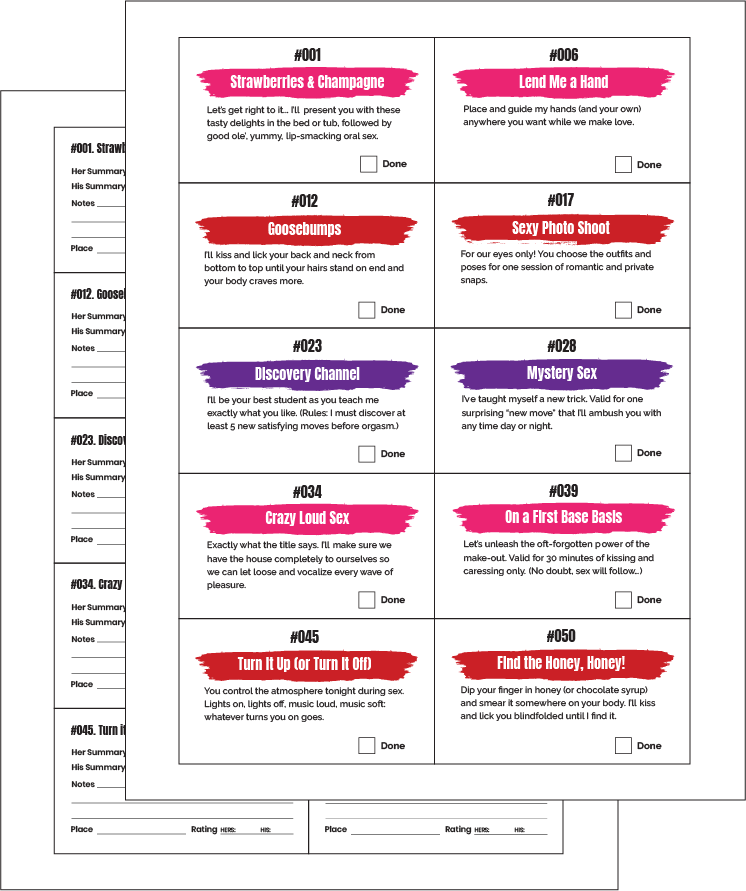 69 Printable Sexy Coupons
69 ways to explore sensual, sweet intimacy and orgasmic enjoyment with your beloved. Each creatively crafted coupon has a titillating activity that is ready to give your lover.
Memory Cards on the Back! Memories matter! The back of each coupon serves as a memory card with spaces for the date, location, notes, ratings, thoughts & feelings… whatever works!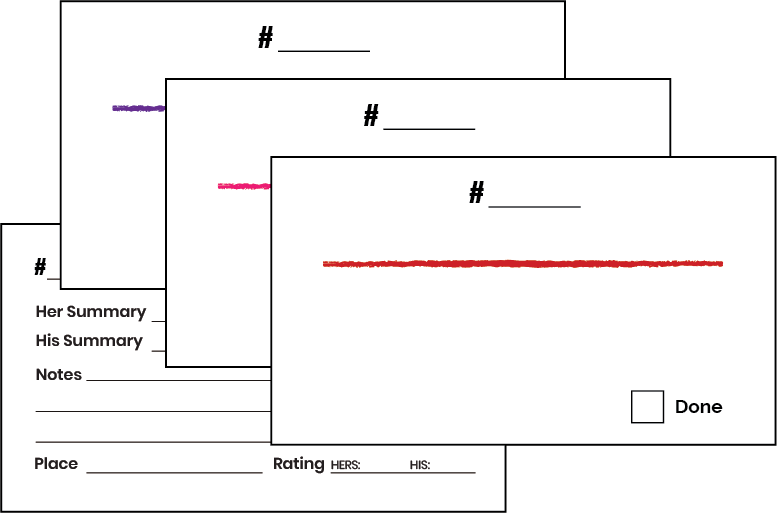 3 Create-Your-Own "Blank" Coupon Sheets
Create UNLIMITED Custom Coupons! Create as many coupons as you desire with the printable pages of 10 "blank" coupons in 3 colors (for a little visual variety)… so sexy time keeps coming (see what we did there?).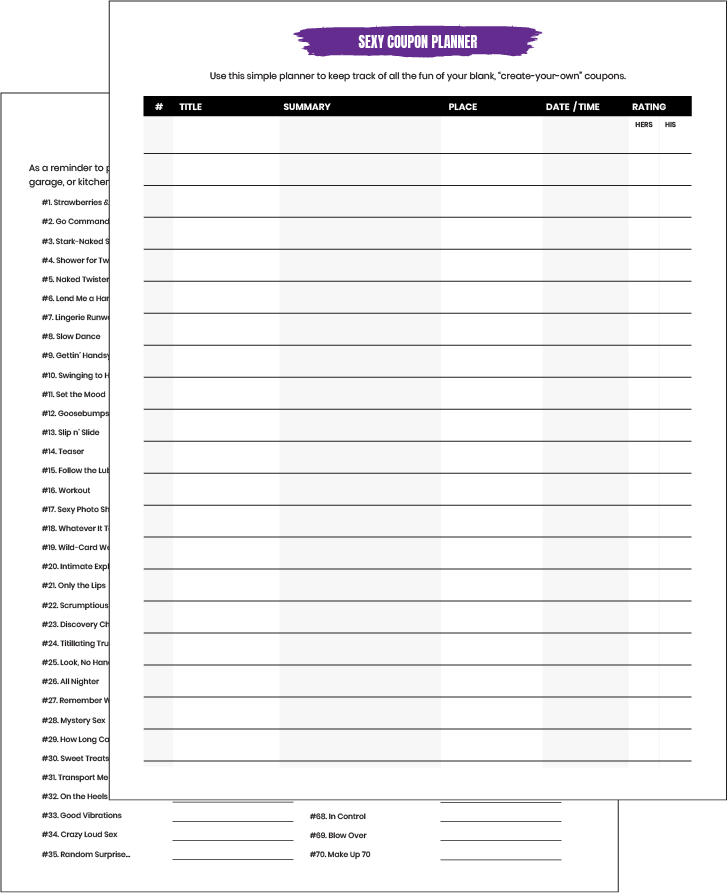 2 One-Page Reference Planners
We have included 2 one-page reference lists as date planners to make sure you keep track of all your dates and coupons.
Planner #1 for the 110 Love Language Coupons
Planner #2 for the Create-Your-Own "Blank" Coupons.
The big idea is for you to post the pages where you will regularly see them throughout the day. This encourages reflection, conversation, and excited anticipation for future boot-knockin' fun.
Card Front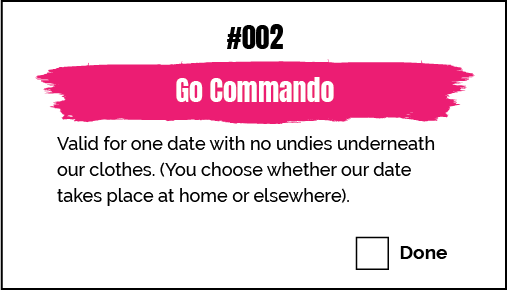 Numbered for quick reference.
Spunky Title with sexy coupon details.
Mark as DONE when complete! Rinse & Repeat!
Card Front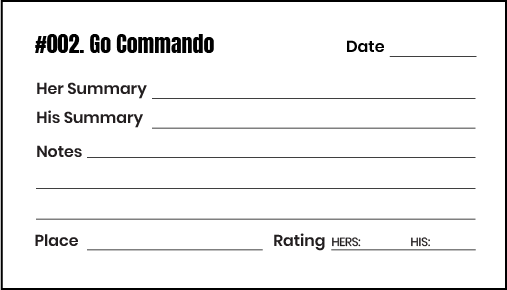 Record the Date & Place completed.
Write a quick Summary & Notes for your memories!
His & Hers Ratings so you can remember your favorite experiences and repeat them… frequently.
How Do Printables Work? (It's EASY!)
Print Your Coupons in 3 Simple Steps...
We made the process as a simple and straightforward as possible! Don't worry, instructions are in the PDF too.
Step #1

. Download Your PDF
Immediately following your successful purchase, we will email you a link to securely download your PDF. You may need to check your spam folder. If for some reason you do not receive it within 10min (sometimes tech junk happens), Contact Us!
Step #2

: Print at Home
Using Standard Printer Paper or Avery Business Card Paper (see more below), print the provided page ranges (double-side print if possible). You may need to refer to your printer's manual for double-sided printing. Actual colors vary based on on your monitor and printer. 
Step #3

: Give to Your Love
We encourage you to be creative with how you present the gift to your spouse... wrap it in a nice box, write a love letter, include a journal, add gifts, create a scavenger hunt, pre-plan for a few of the coupon experiences... we're sure you can figure it out. This is just another opportunity to show your love. 
Avery Business Card Paper Compatible! (Optional)
Avery offers special business card paper for use with your home printer. The paper is perforated for easily removing each card and comes in a variety of thicknesses, coatings, colors, and other options. It is widely available for purchase at many major retailers and office supply stores.
This empowers you to make your gift even more special by customizing it to the preferences of your partner.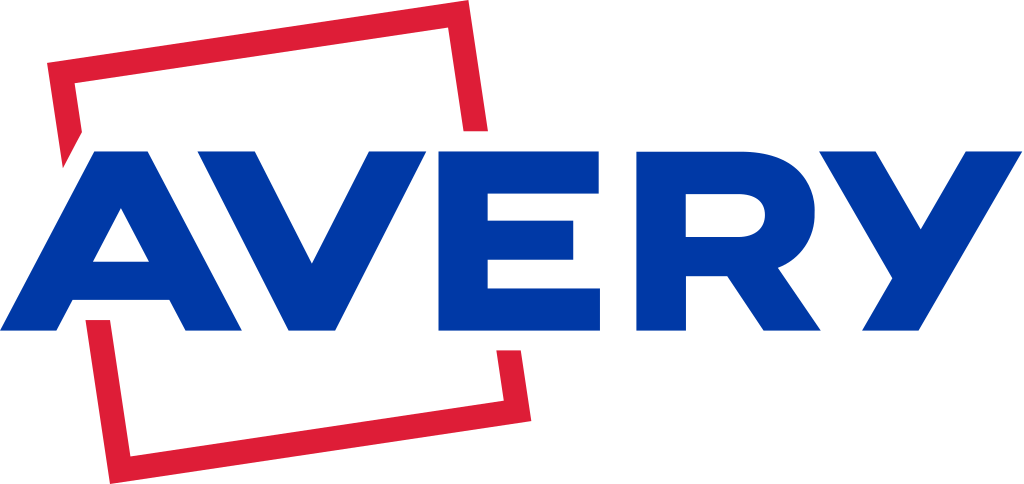 Compatible Avery Template Numbers: These coupons are compatible with the following Avery Template Numbers: 27871, 27881, 27883, 28371, 28877, 28878, 38871, 38873, 38876, 5371, 5376, 5377, 55871, 55876, 5870, 5871, 5874, 5876, 5877, 5911, 8371, 8376, 8377, 8471, 8870, 8871, 8873, 8875, 8876, 8877.